About Us
Mission.
The mission of Coal River Mountain Watch is to stop the destruction of our communities and environment by mountaintop removal mining, to improve the quality of life in our area and to help rebuild sustainable communities.
Who We Are
We are a small non-profit working in communities impacted by the irresponsible practices of the coal industry in southern West Virginia. We combine our local knowledge with technical expertise to fight for local interests threatened by the coal industry. We pressure regulatory agencies to do their jobs to protect the health of our communities and create policy change through educating the public and our local and national representatives. We educate and mobilize citizens to organize and stand together for environmental justice.
We envision stronger and more self-sufficient communities that are in control of their natural resources. The coal industry has extracted wealth from southern West Virginia for decades, leaving behind polluted water and destroying a unique culture and way of life. The state government and regulatory agencies have allowed irresponsible mining practices to continue despite local opposition and increasingly obvious impacts to public health and natural resources.
We understand that powerful industry interests corrupt regulatory agencies and democracy beyond southern West Virginia. We stand in solidarity with other communities that are fighting for local self-determination in the face of industry pressure all over the world.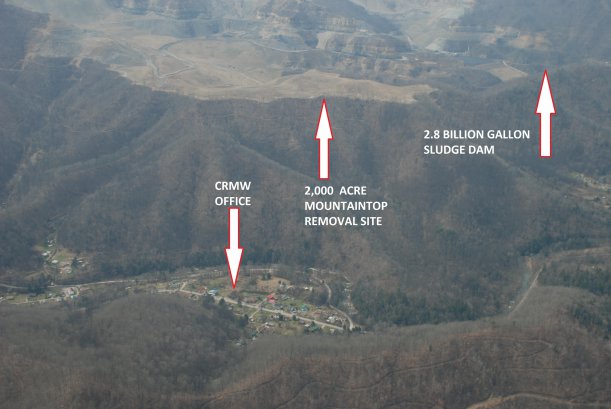 History
Coal River Mountain Watch (CRMW) is a grassroots organization begun in 1998 in response to the fear and frustration of people living near or downstream from huge mountaintop removal sites. We began as a small group of volunteers working to organize the residents of southern West Virginia to fight for social, economic, and environmental justice. From our humble beginnings, we have become a major force in opposition to mountaintop removal. Our outreach coordinator, Julia Bonds, was the 2003 Goldman Prize winner for North America. CRMW's efforts figure prominently in Robert F. Kennedy, Jr.'s book Crimes against Nature. We have been active in federal court to challenge the U.S. Army Corps of Engineers permits for valley fills and made regional news with demonstrations against a sludge dam and preparation plant near Marsh Fork Elementary School.
Contact
P.O. Box 303
Naoma, WV 25140
304-854-2182
304-854-2182
or email us at coalriver (at) crmw.net