The West Virginia Department of Environmental Protection has ordered Alpha Natural Resources subsidiary Republic Energy to show cause why a mountaintop removal coal mine permit on Coal River Mountain in Raleigh County should not be suspended or revoked. Republic has received seven notices of violation at its 802-acre Middle Ridge permit since July 25, 2016. Three or more of the same type of violation within a year demonstrate a pattern of violations and initiate the "show cause" procedure. Republic has 30 days to request a hearing or a consent order; otherwise, the permit will be suspended or revoked or its bond forfeited.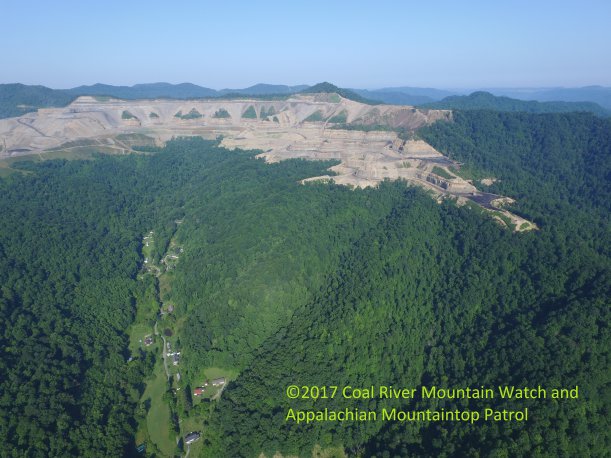 Alpha subsidiaries operate over ten square miles of active, approved or pending mountaintop removal sites and coal waste slurry impoundments on Coal River Mountain. Local citizens group Coal River Mountain Watch has opposed the operations because of the documented public health impacts of mountaintop removal, including significantly elevated rates of cancer, heart disease, birth defects and other deadly illnesses. Mountaintop removal also causes long-term pollution of mountain streams and the loss of access to the mountain for traditional activities including hiking, hunting, and gathering ginseng, berries, mushrooms, ramps and other forest resources. Increased runoff from the deforested sites and altered topography can also contribute to flooding.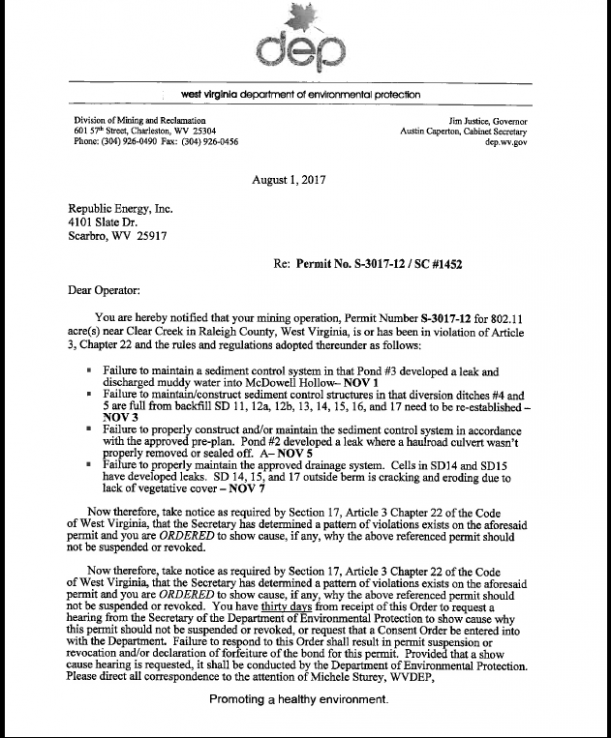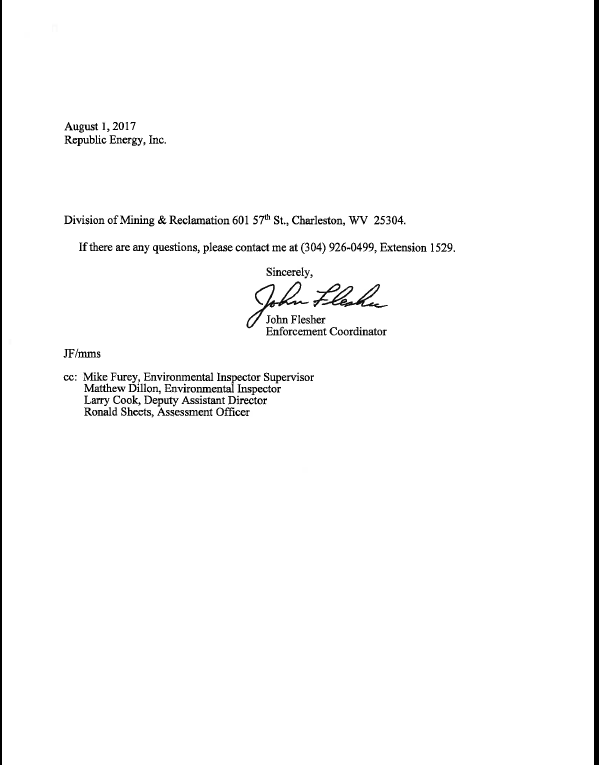 Four of the seven notices of violation on Republic's Middle Ridge permit were for sediment control violations related to improperly constructed ditches and sediment ditch failure. Citizen complaints generated two of the sediment control citations.
"This isn't rocket science. It's a ditch. If Alpha can't even properly maintain a ditch, why should we expect them to comply with any of the other regulations and permit conditions meant to protect water quality and nearby residents and property owners?" said Vernon Haltom, executive director of Coal River Mountain Watch.
Local residents with Coal River Mountain Watch plan to continue pushing for the permanent revocation of the Middle Ridge permit, protection for Coal River Mountain and surrounding communities, and a strong, sustainable economy for southern West Virginia.
"The West Virginia Department of Environmental Protection needs to start living up to their name and their mission of promoting a healthy environment in West Virginia," Haltom said. "Instead, they continue to grant mountaintop removal permits knowing full well that these operations will cause long-term water pollution, serious harm to the health of people in our communities, and damage to the long-term viability of our economy."
###
Coal River Mountain Watch of Naoma, W.Va., has a mission to stop the destruction of our communities and environment by mountaintop removal mining, to improve the quality of life in our area, and to help rebuild sustainable communities. The website is http://crmw.net.
Photos available
More information
Show cause order: https://drive.google.com/open?id=0B87Y5QG4Eg0Xa211WUJEV2YxRWc
Middle Ridge violations: https://apps.dep.wv.gov/WebApp/_dep/search/Permits/ViolationsDetailsQuery.cfm?permit_id=S301712&dep_office_id=OMR
Republic Energy permits on Coal River Mountain: https://apps.dep.wv.gov/WebApp/_dep/search/Permits/RP_PermitQuery_new.cfm?office=OMR