Please come speak at the National Academy of Sciences mountaintop removal health hearing May 23. The hearing is at Chief Logan Lodge, Hotel, and Conference Center, 1000 Conference Center Drive, Logan, WV 25601. There are two parts. First will be three panels: state agencies, coal industry, and environmental/community groups including Coal River Mountain Watch, running from 12:45 until about 4:00. Then there will be a town hall forum where you have three minutes to speak. You can talk about how mountaintop removal has impacted your health or that of your family and neighbors, or about the stacks of existing scientific studies showing that mountaintop removal is public health threat and needs to end now. More details are below, including registration. The committee is "definitely asking people to register in advance" for time planning and accommodation.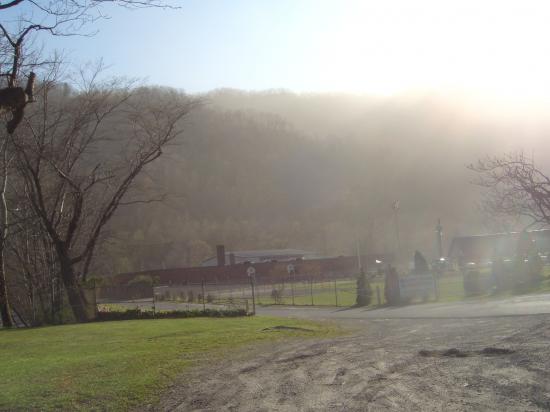 Mountaintop removal blasting dust cloud over Marsh Fork Elementary, April 2007
After years of our poking and prodding, the West Virginia governor and Dept. of Environmental Protection in 2015 acknowledged the existence of the many peer-reviewed scientific studies on mountaintop removal and health. However, since no one in any WV agency seems qualified to understand the science, the WVDEP requested federal help. Last year, the federal Office of Surface Mining, Reclamation and Enforcement (OSMRE) enlisted the help of the National Academy of Sciences to conduct a two-year review of the existing science. Part of the review includes a number of hearings. The first was held in Washington DC on March 7.
The next will be Tuesday, May 23 at
Chief Logan Lodge, Hotel and Conference Center
1000 Conference Center Drive
Logan, WV 25601
The hearing will be in two parts. The first is the "open session," consisting of panels, from 12:45 until about 4:00. The second is the "town hall forum," where citizens can speak briefly, from 6:00 until about 9:00.
There will be three "open session" panels: state agencies at 1:00, coal industry at 2:30, and environmental groups Coal River Mountain Watch with our friends from Ohio Valley Environmental Coalition and WV Highlands Conservancy at 3:00.
The "town hall forum" at 6:00 is your chance to speak up. Here's the description:
As part of a study examining the potential relationship between health risks and living near surface coal mining or reclamation sites, the National Academies will hold a town hall to gain insights and information from people living in the surrounding communities. The National Academies study committee invites community members to attend and share their perspectives on this topic. The focus of the study is people living near coal-mining areas rather than on occupational health of coal mine workers.
More information on the study can be found here.
For more information or to register to attend, email rchapetta@nas.edu or call 202-334-2766.
You can also send comments here. Please share with the committee your thoughts and feelings about the practice of letting unregulated hazardous dust blow from the mountaintop removal sites into the lungs of people. If you or a family member has suffered the health impacts of mountaintop removal, or you fear for the health of your family, please let them know.
Schedules are subject to slight change, so follow us on Facebook to stay current. If you can't be there, please consider chipping in $25 here for gas.
Here are more details from the coordinator about the event and registration, which the committee highly encourages:

The panel session is open to the public. It would be helpful if people registered in advance, so we have an idea of how much space we might need. I've been asking people to register with Remy Chappetta, our program assistant for this study (RChappetta@nas.edu). In the interests of time and to make the open session as relevant for the committee as possible, the public will not be allowed to ask questions of the panelists during the open session.
For the town hall, we are definitely asking people to register in advance (again to Remy). They can also sign up on site, but we'd like to know in advance if possible (again, for space issues and to better understand timing). They will each have 3 minutes to speak to the committee.