Pathway To A Brighter Future!
Dec 21, 2012
After a long fought battle, the kids at Marsh Fork Elementary School will finally be inside a new, clean, safe school.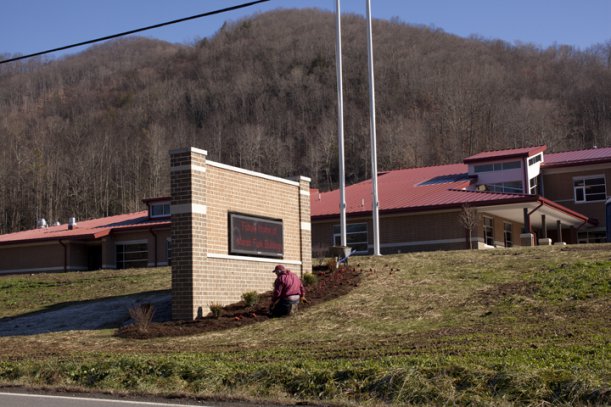 photo credit/ Appalachian Watch
December 13, 2012, in Rock Creek, WV, planting boxwood and flowering vines around the new Marsh Fork Elementary School are part of the finishing touches for the new school, set to open in the new year.
Since 2005, local community members who had become aware of serious human health impacts among the teachers and students at the school pointed to Massey Energy's Goals Coal Prep Plant which sits just 300 yards from the school. Part of the Massey facility includes a mountaintop removal site and a coal slurry impoundment holding back 2.8 billion gallons of coal sludge as the source of the illnesses. Residents built a campaign around the school issue called Pennies of Promise which collected thousands of dollars in pennies to go toward the new school. There is a recent and growing body of scientific evidence, more than 20 studies published in peer-reviewed academic journals, linking a severe human health impact of mountaintop removal coal mining specifically to the silica dust and PAH toxins.
.