New Drone Footage of Mountaintop Removal on Coal River Mountain
Oct 7, 2017
The Middle Ridge mountaintop removal site on Coal River Mountain is permitted for 802 acres. Alpha Natural Resources subsidiary Republic Energy has racked up nine violations at this site since July of last year, and they've been ordered to show cause why the permit should not be terminated. While we await that hearing, we continue to monitor the site to reveal more violations. Junior Walk shot this drone video of the site on Oct. 4: https://www.facebook.com/CRMWSTOPMTR/videos/1883733234975154/ Note the homes in the hollow below, where the people breathe the blasting dust and endure the shaking of their houses.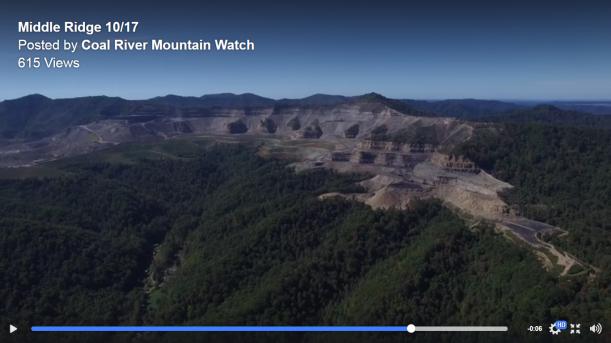 The coal company has been ordered to "cease any new disturbance" until they bring the operation into compliance with the reclamation schedule approved on their permit. But that doesn't mean that the operation is shut down.
Please consider helping us keep an eye on this and other sites to reveal enough violations to get them shut down. You can make a tax-deductible donation at http://crmw.net/donate.php
Thank you!