Anti-mountaintop removal arrestees need your help!
Jul 2, 2009
We desperately need your donations to help out some climate heroes in need. As you probably know, 30 people -- including NASA Scientist James Hansen, Actress Daryl Hannah and former Congressman Ken Hechler -- were arrested last Tuesday opposing mountaintop removal and a second coal silo at Marsh Fork Elementary school in southern West Virginia. To learn more, see some of the incredible coverage below. You may also know that the brave citizens were charged with block traffic and obstructing an officer. We were forced to block traffic by the Fiends of Coal who had blocked our access to the road -- but no one came near obstructing an officer. We are trying to get the outrageous charges dropped, but as it stands, these trumped up charges may cost each person $500-600!

Most of the 30 were average citizens -- including students, grandmas and grandpas, teachers, and many, many local heroes to the movement-- each fed up enough with the destruction of our mountains and endangerment of children to put their foot down and say, "No More!" No more coal plant dumping toxic dust onto an elementary school, no more blasting apart our mountains and our heritage, and no more fueling climate change.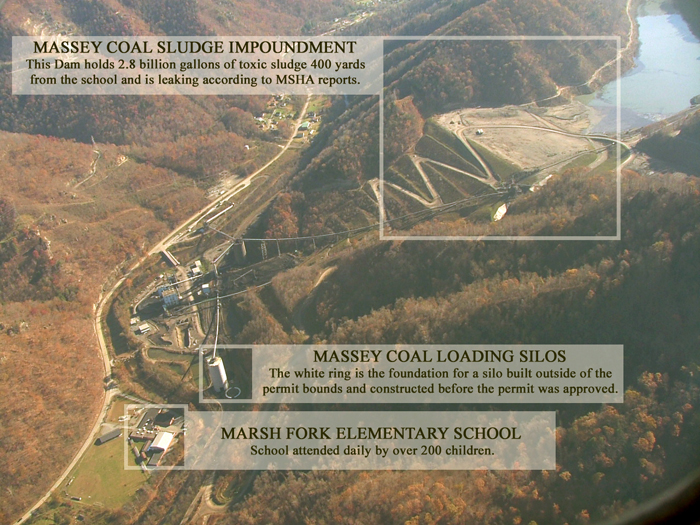 However, taking a stand In these tough economic times - and any time - $600 is a lot of money! Especially when you're working night and day just to save your home from mountaintop removal. Please donate to help cover the costs of these citations -- and help out local heroes like Larry Gibson, Goldman Award Winner Judy Bonds, Bo Webb, Lorelei Scarbro, Winnie Fox and many, many more.

Every little bit helps! Even $5 or $10 will add up!

Here is a round up of the more than 600 blogs and articles about the action last Tuesday. Be sure to check out Daryl Hannah's account of why she got arrested.

To Donate: Make checks to "Mountain Justice" Clearly mark checks or online payments 23 or June 23 Protest or donate online at www.mountainjustice.org or click the pay pal button below.

Donate by mail:


Mountain Justice
PO Box 86
Naoma, WV 25140