The West Virginia Department of Environmental Protection has ordered chronic polluter Alpha Natural Resources subsidiary Republic Energy to comply with the law and maintain their ditches at the Middle Ridge mountaintop removal site on Coal River Mountain. Because of a pattern of regulatory violations, some of which were discovered and reported by Coal River Mountain Watch's Coal River Intensive Monitoring Project (CRIMP) and local residents, WVDEP and Republic entered into a consent order on November 15, 2017. Under the terms of the order, Republic must suspend coal removal from the site for three consecutive days, not including holidays or holiday weekends. Republic must also properly maintain, certify, and inspect their sediment ditches at the site and monitor rainfall. WVDEP will assess a minimum civil penalty of $3,000 per violation for further violations of drainage control regulations at the site.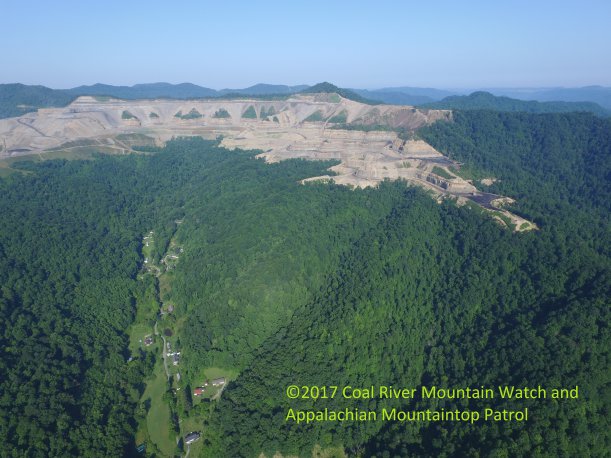 It took a lot of support for CRIMP to put a crimp in Alpha's operation. It takes a lot of work to hold giant coal companies accountable when the agencies tasked with regulating them would rather enable them. Monitoring the ten square miles of mountaintop removal and sludge dam permits on Coal River Mountain is no walk in the park. A lot more must be done to shut down this site and the others that are threatening the health and safety of the community. Please consider supporting the CRIMP project or the closely related Show and Tell Energy Education Project (STEEP) at http://crmw.net/donate.php.
Alpha subsidiaries operate over ten square miles of active, approved or pending mountaintop removal sites and coal waste slurry impoundments on Coal River Mountain. Local citizens group Coal River Mountain Watch has opposed the operations because of the documented public health impacts of mountaintop removal, including significantly elevated rates of cancer, heart disease, birth defects and other deadly illnesses. Mountaintop removal also causes long-term pollution of mountain streams and the loss of access to the mountain for traditional activities including hiking, hunting, and gathering ginseng, berries, mushrooms, ramps and other forest resources. Increased runoff from the deforested sites and altered topography can also contribute to flooding.
Five of the nine violations on Republic's Middle Ridge permit are for improperly constructed and maintained sediment and drainage control structures.
This isn't rocket science. It's a ditch. If Alpha can't even properly maintain a ditch, why should we expect them to comply with any of the other regulations and permit conditions meant to protect water quality and nearby residents and property owners?
Coal River Mountain Watch will continue pushing for the permanent revocation of the Middle Ridge permit, protection for Coal River Mountain and surrounding communities, and a strong, sustainable economy for southern West Virginia.
The West Virginia Department of Environmental Protection needs to start living up to their name and their mission of promoting a healthy environment in West Virginia. Instead, they continue to grant mountaintop removal permits knowing full well that these operations will cause long-term water pollution, serious harm to the health of people in our communities, and damage to the long-term viability of our economy.