New Mountaintop Removal Flyover Photos Posted
Oct 15, 2015
Thanks to our friends at Southwings (http://www.southwings.org/), on Saturday Oct. 10 we were able to show some Coal River Mountain residents the destruction that's coming if Alpha Natural Resources gets the Long Ridge #1 permit approved.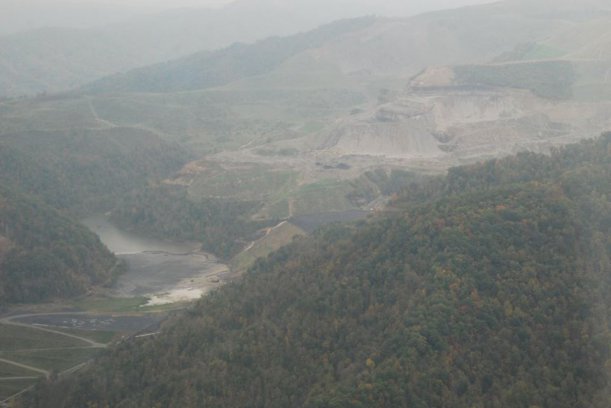 While the weather kept us from flying over the Long Ridge site itself, we were able to get a good view of other mountaintop removal sites in the area. We got a look at the 2,000-acre Edwight permit and 2.8 billion-gallon Shumate's Branch sludge dam above the old Marsh Fork Elementary School. Alpha plans to close down the Edwight site at the end of November. It still looks like a pile of dusty rubble that's not going to be "reclaimed" anytime soon.
This was the first Southwings flight for volunteer pilot Jeremy Jacobsohn. We at Coal River Mountain Watch are honored that he made his inaugural flight with us, but also saddened that he had to see the destruction that is mountaintop removal.
By the way, if someone tells you that mountaintop removal is over, let them know that it's not. More photos are on our photo page at http://crmw.net/photos/mountaintop-removal-flyover-oct-10-2015.php