Public Hearing July 7 for New Mountaintop Removal Application On Coal River Mountain
Jun 30, 2015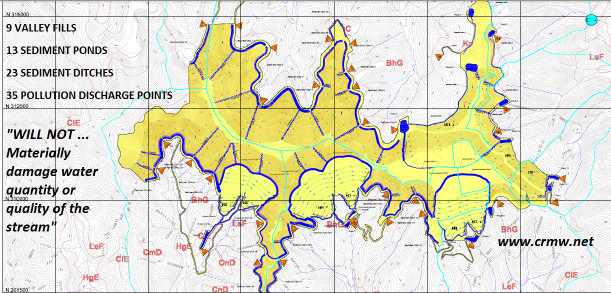 Long Ridge #1 on Coal River Mountain even though Alpha Natural Resources says that they don't do mountaintop removal anymore:
9 VALLEY FILLS,13 SEDIMENT PONDS, 23 SEDIMENT DITCHES, and 35 POLLUTION DISCHARGE POINTS.
The planned complex will eventually include 117 stream channels totaling 30 miles and 10 emergent wetlands.
These are just the water impacts, and don't mention the health impacts that the WVDEP and all government agencies may ignore.
Mountaintop removal has not ended. Help us fight this permit and all mountaintop removal at http://crmw.net.
Please come to the public hearing to oppose this 847-acre (to start with) permit application which would endanger the lives and health of residents.
When: Tuesday, July 7, 6:00 PM
Where: New Marsh Fork Elementary School, Rock Creek, WV (Raleigh County)