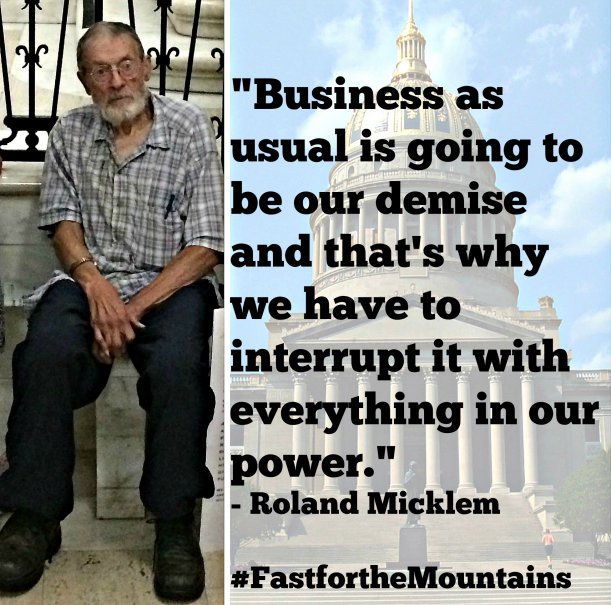 Please come out if you can
Media Advisory July 15, 2014
On 10th day of Fasting for the Mountains, 85-year old veteran, supporters, to hold press conference
Contacts:
Mike Roselle, CGZ: 205-999-8391
Maria Gunnoe, OVEC: 304-989-9581, wvhollowgirl@gmail.com
Vernon Haltom, CRMW: 304-962-4610, vernon@crmw.net
Vivian Stockman, OVEC: 304-360-1979, vivian@ohvec.org
What: Press conference calling on Governor Earl Ray Tomblin to take action for West Virginians' health
When: 9:30 a.m., Wednesday, July 16, 2014
Where: Sidewalk at Haddad Riverfront Park, 600 Kanawha Boulevard E., Charleston, WV
Who: Roland Micklem, US Army veteran, fasting for the mountains
Mike Roselle, Climate Ground Zero founder, fasting for the mountains
Maria Gunnoe, Ohio Valley Environmental Coalition / ACHE Act
Vernon Haltom, Coal River Mountain Watch / ACHE Act
More Info: Wednesday marks the tenth day of fasting at the State Capitol where citizens Roland Micklem and Mike Roselle insist that Gov. Tomblin take urgent action on the health impacts of mountaintop removal and the MCHM spill into the water supply of 300,000 people. With thousands of lives at stake, citizens are taking it upon themselves to bring attention to the growing health crisis taking place in WV communities devastated by mountaintop removal.
Statements: Roland Micklem: "We appeal to the sense of justice and honesty in our leaders, and have faith that, as responsible Stewards of Creation, they will Do the Right Thing for the people of West Virginia."
Maria Gunnoe: "Extractive industries have controlled West Virginia for far too long. Our citizens are paying the price with our lives, health and wellbeing. Will our politicians continue to ignore us, or will they stand beside us and protect their fellow West Virginians' lives and health?"