Blood on the Mountain: DVD and Digital Release Plus Free Screening
Feb 21, 2017
The Blood on the Mountain filmmakers have announced that the film is available beginning today on DVD or streaming video. Also, mark your calendars for a free screening April 5 at 6:00 PM at the Judy Bonds Center for Appalachian Preservation. You don't want to miss this important film set largely in the Coal River Valley with major roles by CRMW staff and volunteers. See more below!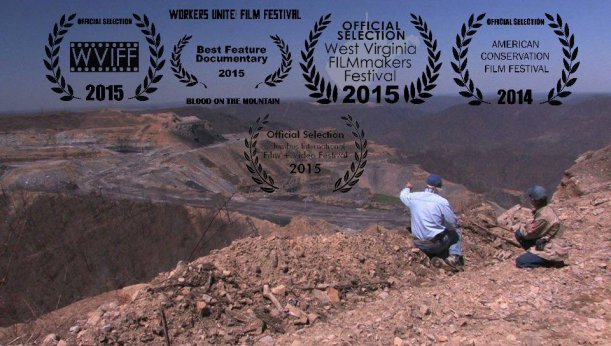 From the filmmakers:
Thanks to so many of you wonderful people, we were able to raise $26,138 through Kickstarter!

Your contributions will go towards helping to educate and inform the people of Appalachia, and others throughout the nation, about the dangers of corporate control. Thank you for continuing to believe in the power the film has to change hearts and minds, this truly would not be possible without you.
We are also happy to announce that Blood on the Mountain is now available for purchase on DVD and Digital Streaming TODAY! DVDs copies may be ordered via www.bloodonthemountain.com or for digital streaming, go to iTunes, Amazon, VuDu or Google Play. So many ways to see the film, please share it with your networks.
The more people who see this film, the more impact it will have. Let's keep it going, let's keep change coming. We need it now more than ever.
Love and Solidarity,
Mari-Lynn, Jordan, and Deborah
Coal River Mountain Watch is hosting a free screening April 5th at 6:00 PM at the Judy Bonds Center for Appalachian Preservation (Coal River Mountain Watch office), 7503 Coal River Road, Naoma, WV 25140 (directly across the street from the post office on Route 3).