Take action to Save Coal River Mountain!
Oct 29, 2009
Take Action Now! The day we've fought for years has arrived -- Massey Energy has begun blasting Coal River Mountain, and we're joining with local residents to call on our allies across the nation and world to demand an end to the destruction.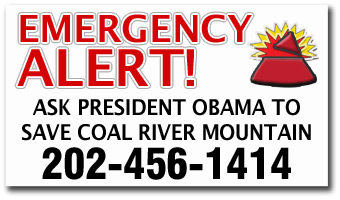 Massey is blasting the containing ridge of a slurry impoundment that holds 8.2 billion gallons of toxic sludge, with underground mine works running beneath it. If the dam fails, an estimated 998 people could be killed. Blasting also destroys the mountain's wind potential. According to a 2006 study, the Coal River Mountain could be home to the east coast's largest wind farm if Massey Energy doesn't destroy the mountain. Our Coal River Wind campaign to build this wind farm has powerful community support, but the current blasting threatens to destroy the possibility -- and our hopes for a sustainable future.

Take Action!
We are raising our voices to defend our mountain, but we need your help! Please call EPA Administrator Lisa Jackson and/or fax and call President Barack Obama. Urge them to direct their agencies and use their influence on West Virginia politicians to save Coal River Mountain, protect the surrounding communities from imminent danger, and preserve some of our country's most valuable renewable energy resources! Faxes are recommended, since they physically flood the offices and ensure the officials receive the exact wording of your comments.
Lisa Jackson: CALL 202-564-4700
President Obama: FAX: 202-456-2461, CALL: 202-456-1414, or comment:http://www.whitehouse.gov/contact

Please also spread the word by blogging and writing letters to the editor!

Soon we will have a formal letter where you can add your signature, so we can send the letter to these and other public officials. Stay tuned!

To learn about our actions to ask Governor Manchin to protect the mountain, read Charleston Gazette reporter Ken Ward's account here or see a video here, where our own staff member Lorelei Scarbro corrects Governor Manchin that West Virginia is not the "Extraction State," but the "Mountain State" (towards the end of the video).

For a sample of blogs already written:
Breaking: Mountaintop Removal Begins on Coal River Mountain -- Help Needed Now
WVDEP confirms: Blasting starts on Coal River Mountain
Urgent Action Need: We Face a National Security Threat on Coal River Mountain
Battle at Coal River Mountain Explodes: Green Jobs Vs. Big Coal Showdown (EXCLUSIVE PHOTOS)

Thank you!
-- Coal River Mountain Watch