CRIMP Reveals New Violation on Coal River Mountain
Dec 12, 2017
As a result of a citizen's complaint prompted by the Coal River Intensive Monitoring Project (CRIMP) and our friends at Kanawha Forest Coalition, the West Virginia Department of Environmental Protection has issued another notice of violation to Alpha Natural Resources subsidiary Republic Energy. This is the tenth violation at the Middle Ridge mountaintop removal site, again for failure to properly maintain sediment ditches. This is also the first violation since WVDEP issued a consent order against Alpha as a result of a pattern of sediment control violations and should result in a $3,000 fine.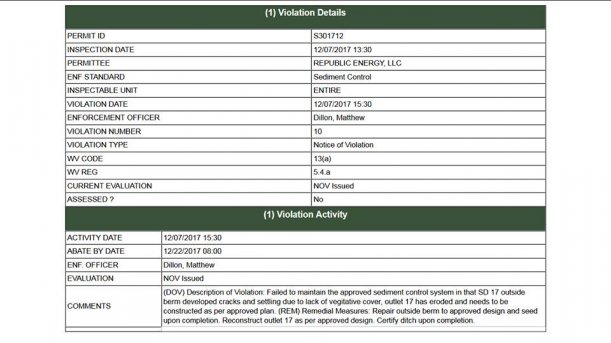 The consent order itself resulted from CRIMP's persistent monitoring, reporting violations, and following up to hold this chronic polluter and the WVDEP accountable. You can help support the CRIMP project with a tax-deductible gift at .http://crmw.net/donate.
The violation is posted on the WVDEP website at https://apps.dep.wv.gov/webApp/_DEP/Search/Permits/OMR/Violation_Details.cfm?permit_id=S301712&dep_office_id=OMR&unit_insp_date=12%2F07%2F2017%2013%3A30&viol_num=10.
You can see the consent order at http://crmw.net/updates/putting-a-crimp-in-mountaintop-removal.php.
If you have a mountaintop removal site in your neighborhood and would like some tips or assistance monitoring it, please contact us. Thank you.