Coal River Mountain Watch and other groups have filed a notice of intent to sue federal agencies for failing to protect the threatened northern long-eared bat from mountaintop removal sites in Raleigh and McDowell Counties.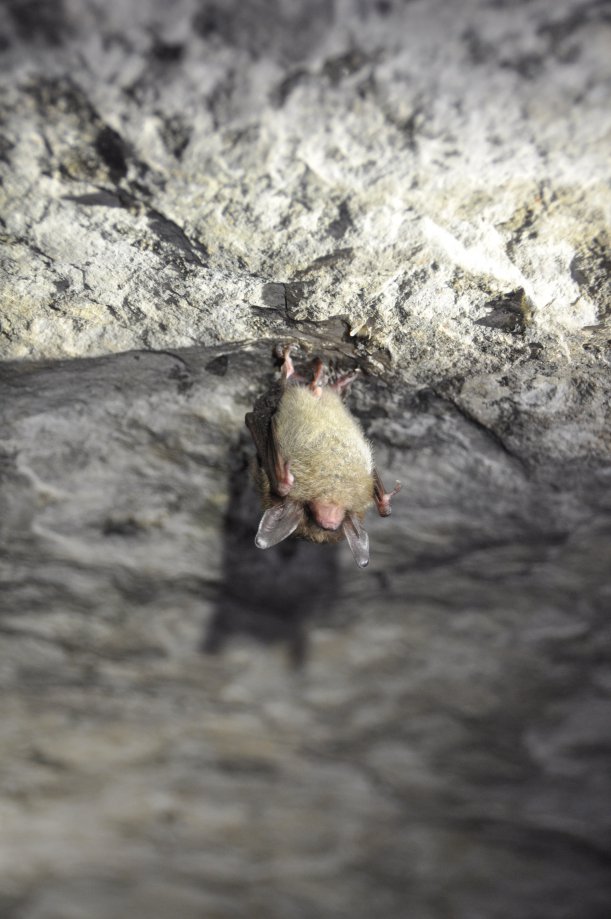 Photo courtesy Flickr Creative Commons/Kristen Bobo
For Immediate Release, September 22, 2015
Contact: Tierra Curry, (928) 522-3681, tcurry@biologicaldiversity.org
Vernon Haltom, (304) 952-4610 vernon@crmw.net
Dianne Bady, (740) 886-5796 dianne@ohvec.org
Sean Sarah, (330) 338-3740, sean.sarah@sierraclub.org
Lawsuit Launched to Protect Threatened Bat from Two West Virginia Coal Mines
Unchecked Mountaintop-removal Coal Mining Continues to Harm Communities, Endangered Species In Appalachia
CHARLESTON, W.Va.— The Center for Biological Diversity, Coal River Mountain Watch, the Ohio Valley Environmental Coalition, and the Sierra Club filed a formal notice of intent to sue the Office of Surface Mining Reclamation and Enforcement and the U.S. Fish and Wildlife Service today for their failure to protect threatened northern long-eared bats at two proposed mountaintop-removal coal mines in West Virginia. The mines will clear more than 1,000 acres of hardwood forest that are home to the rare bat, which was protected under the Endangered Species Act in April. The agencies have not put any specific measures in place to protect the bats from the mining activities, as required by law.
"The failure to protect these bats is the latest example of coal companies getting a free pass in Appalachia when it comes to complying with the Endangered Species Act and other laws designed to protect the health of people and the environment," said Tierra Curry, a senior scientist at the Center. "The wink-and-a-nod compliance with the law is having devastating effects on wildlife and human communities in Appalachia."
The Center for Biological Diversity petitioned for Endangered Species Act protection for the northern long-eared bat in 2010. The species has declined by 96 percent in its core range due to a lethal disease called white-nose syndrome. Because of the drastic impact of this disease, the bat is extremely vulnerable to habitat destruction.
The bat is found at both Republic Energy's proposed Long Ridge mine on Coal River Mountain in Raleigh County, which will clear 664 acres of forest, and Jim Justice's Big Creek mine in McDowell County, which will destroy 468 acres of forest. Under the Endangered Species Act, the Office of Surface Mining Reclamation and Enforcement and Fish and Wildlife Service are required to ensure that mining does not jeopardize the survival of the bats.
"Federal agencies need to do a better job of protecting both the northern long-eared bat and the people who live around these mines," said Vernon Haltom, director of Coal River Mountain Watch. "Mountaintop removal is destroying wildlife and human communities in Appalachia and it is time for that to end."
"The lack of effective protections for bats and other endangered species mirrors the lack of protection for Appalachian residents from surface mining impacts," said Dianne Bady, founder and project coordinator at the Ohio Valley Environmental Coalition.
To try to address impacts to endangered species from surface mining, the Office of Surface Mining Reclamation and Enforcement consulted with the Fish and Wildlife Service in 1996, resulting in a "biological opinion" that established very minimal requirements that must be met. According to today's legal notice, the two mines in question have not established specific measures to protect northern long-eared bats as is required by that biological opinion. The groups also put the Office of Surface Mining Reclamation and Enforcement on notice that its continued reliance on the 1996 document to avoid impacts to imperiled species is illegal. The outdated biological opinion fails to ensure the survival of the northern long-eared bat and many other species that have required the Endangered Species Act's protection since 1996 and, that like the bat, are being affected by surface coal mining.
"Today's notice is another example of how critical it is to have increased protections in Appalachia from surface mining," said Liz Wiles with the West Virginia Sierra Club. "Federal agencies need to revamp protections for endangered species when it comes to surface mining, which will benefit both wildlife and people."
Much new scientific information has been published recently documenting the devastating effects of surface coal mining in Appalachia on wildlife and people. Mining has now been linked to declines in birds, fish, salamanders, crawdads, insects and freshwater mussels. Mining threatens nearby communities with air and water pollution and risk of flooding. More than 20 peer-reviewed scientific studies have now linked mining pollution in Appalachia to health problems, including increased risk of cancer, cardiovascular disease and birth defects.
The proposed Big Creek mine is a case in point. In addition to destroying nearly 500 acres of native hardwood forest used by the bat, it is directly above a church and upstream of a Head Start center. It will also destroy more than five miles of streams, threatening another species that has been proposed for protection, the Big Sandy crayfish. More than 1 million acres of hardwood forest and more than 2,000 miles of streams have already been destroyed by surface coal mining in Appalachia.
The Center for Biological Diversity is a national, nonprofit conservation organization with more than 900,000 members and online activists dedicated to the protection of endangered species and wild places.
Coal River Mountain Watch is a West Virginia nonprofit organization that works to stop the destruction of communities and environment by mountaintop removal mining, to improve the quality of life of residents, and to help rebuild sustainable communities. The group is working to pass the Appalachian Community Health Emergency Act (ACHE).
The Ohio Valley Environmental Coalition is national organization dedicated to the improvement of the environment and communities through education, grassroots organizing and coalition building, leadership development, strategic litigation and media outreach.
Sierra Club is one of the oldest grassroots environmental organizations in the country with more than 2.4 million members and supporters. Sierra Club's mission is "to explore, enjoy, and protect the wild places of the earth; to practice and promote the responsible use of the earth's ecosystems and resources; and to educate and enlist humanity to protect and restore the quality of the natural and human environments."