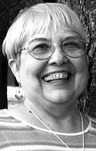 Ms. Janice Ann Nease, 77, of Poca, passed away Monday, July 8, 2013.
Janice was a founding member of Coal River Mountain Watch. She was an avid reader, loved working in her flowers and enjoyed country-western dancing, winning several awards, including the 1999 World Championship in her division
Janice spent her entire teaching career at Sissonville High School as a language teacher who truly loved her job and loved traveling the world. She also treasured her research into her ancestry.
She was preceded in death by her parents and the father of her children, Richard Morgan Nease.
Janice is survived by her children, Rick and wife, Lorinda Nease and Nicki Nease, all of Poca; sister, Barbara Shuman and brother, Larry Leach, both of Alabama; grandchildren, Kendall McClanahan and Sara Downey; nieces, Kristy Nease, Katie Weinreich, Krista Daniel and Mandy Jenkins; nephews, Andy Nease, Ron Nease and Roy Hall; great-niece, Macy Jenkins; and also by her dog, Rio.
A tribute to the life of Janice Ann Nease will be 6 p.m. Saturday, July 13, at Gatens-Harding Chapel. Friends may visit one hour prior to the memorial service at the funeral home.
Gatens-Harding Funeral Home, 147 Main St., Poca, is serving the Nease family.
Online condolences may be sent by visiting www.hardingfamilygroup.com.