Dear Friends,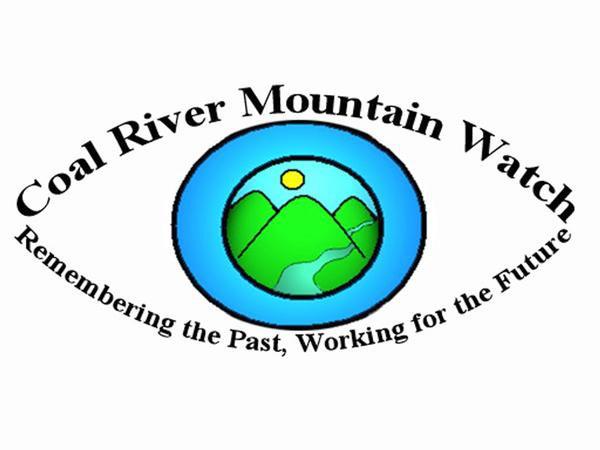 Thanks for sticking with us at Coal River Mountain Watch for another challenging year for all. Here's a short summary of what we've been doing.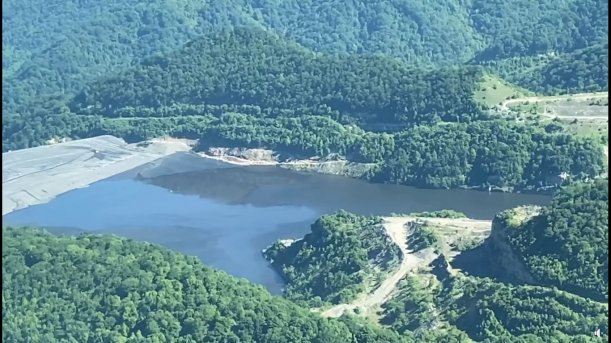 Citizens' Enforcement Program/Coal River Intensive Monitoring Project (CEP/CRIMP)
CEP coordinator and site monitor Junior Walk posted 25 Youtube videos of coal operations, mostly mountaintop removal, on and around Coal River Mountain. Some of these videos reveal probable violations, such as blasting dust leaving the permit boundary, but WV Dept. of Environmental "Protection" won't issue a violation unless they see it for themselves. And somehow, they're never on hand to witness this common violation. See Junior's videos at https://www.youtube.com/user/BobaFeattus/videos.
In June, our executive director Vernon Haltom went on a flyover with our friends at SouthWings to get a good look at the MTR sites on and around Coal River Mountain, including the inactive Bee Tree permit proposed for renewal beside the multi-billion-gallon Brushy Fork sludge dam. The flyover revealed that "reclamation" at inactive sites just isn't happening in any real sense, even years after the sites were idled. Digging into the permits for these inactive permits reveals that they could be re-started at any time, and their justification for inactive status is "market conditions," even though the company is applying for new permits. You can see the videos from the flyover, including the orange treatment ponds beside the old Marsh Fork Elementary School, at https://www.youtube.com/channel/UCnPu-xSzsMIOhwKDIC8K0qg.
Our members and staff reported three potential coal operation violations:
-In February, Horse Creek ran black from an Alpha Metallurgical Resources subsidiary's broken pipe. WV Dept. of Environmental Protection issued the wrist-slap fine of $900 (https://www.wvnstv.com/top-stories/top-stories-beckley/local-community-suffering-from-black-creek-water/).
-In July, drone footage by Junior Walk revealed a highwall collapse above a public road (Little White Oak Road above Orgas, Boone County, WV). WVDEP issued no citations for this mountaintop removal operation by Panther Creek, but the company did begin repairs.
-In October, another drone mission by Junior revealed a slip at an Alpha mine access road above Hazy Creek, near Edwight, Raleigh County, WV. WVDEP declared the slip "natural" and not the responsibility of the coal company since the site was still not started, with existing "previously mined and not reclaimed" portions of the site.
We objected to 2 new and 2 renewal mountaintop removal permits on and around Coal River Mountain. We participated in 3 online permit hearings ("informal conferences") to state our objections and ask questions. We've requested two more.
Until those hearings are held, you can join us in objecting to more MTR. Just email the permit supervisor, Laura.B.Claypool@wv.gov, and urge her to deny Republic Energy's S300721 "Fulton East" and S300821 "White Oak" permit applications. Remind her that mountaintop removal is a deadly public health threat, and that these sites will increase the risk of flooding in these communities. Remind her that S300721 would become the fourth MTR site within a mile of Clear Fork Elementary School, and that kids' developing lungs don't need a bunch of fine and ultrafine silica dust. Let her know that it makes no sense to approve these permits while Alpha subsidiaries have numerous other permits "inactive" and "not started" because of "market conditions." Maybe remind her that human beings shouldn't knowingly endanger others.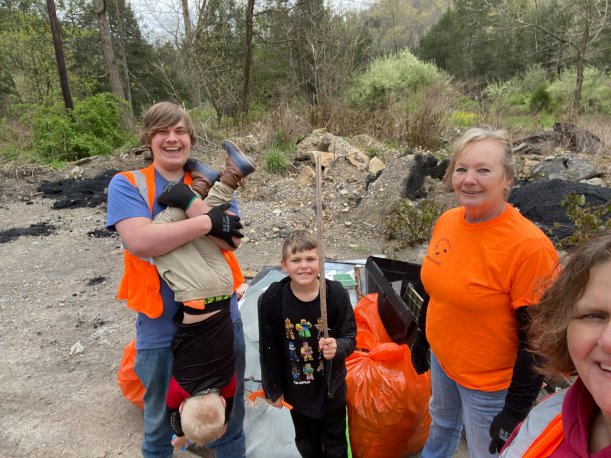 Tadpole Project
The Tadpole Project collected at least 500 tires for recycling, and conducted five cleanup days in the streams, hollows, and roadsides. Plans were made for a meeting with WVDEP and area residents to discuss forming a Marsh Fork watershed group independent of CRMW. However, the meeting had to be postponed because some of the state agency presenters had Covid. If you'd like some help or guidance cleaning up a stream, roadside, or holler in the Marsh Fork watershed, or if you'd like to volunteer, please contact us at coalriver@crmw.net. CRMW Co-Director Debbie Jarrell and Tadpole Project organizer Peggy Bone can provide bags, gloves, snacks, and maybe some strong young people who could benefit from some wholesome outdoor community service.
Show and Tell Energy Education and Policy (STEEP) project
CRMW outreach coordinator Junior Walk gave a tour to a college teacher who used the photos and information she gathered to educate her class. He also gave tours to a couple of private citizens, a reporter from France, and Charleston Gazette-Mail reporter Mike Tony, who has been covering our issues well this year. One of his stories ran on the front page of the Sunday paper, detailing the dust and noise problems imposed by Alpha Metallurgical Resources on the community of Eunice, WV (https://www.wvgazettemail.com/news/energy_and_environment/raleigh-county-community-says-coal-dust-from-nearby-mine-is-taking-its-breath-away/article_d91a48d2-be51-5692-ad9d-67b325922f64.html).
We have another reporter scheduled to arrive next week, and look forward to more opportunities to get the truth out there: mountaintop removal is still going on, no one has ended it, and it is a deadly public health hazard.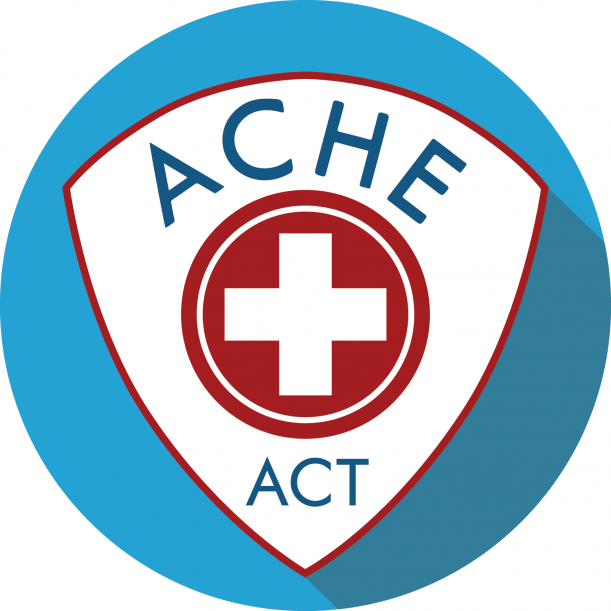 Appalachian Community Health Emergency (ACHE) Campaign
In March, the ACHE campaign again got the ACHE Act reintroduced in the US House of Representatives, H.R. 2073 in this Congress. The bill would halt new or expanded mountaintop removal coal mine permits until and unless the Department of Health and Human Services, upon receiving a comprehensive health study, concludes that the process poses no threat to public health.
Rep. John Yarmuth, (Ky-3), the lead sponsor of the bill, said, "For far too long, reckless mountaintop removal mining practices have wreaked havoc on the air, water, and land throughout coal communities. We also see some of the worst health outcomes in areas surrounding these mining operations, yet to this day there still has not been a single federal health study completed on the risks associated with the practice. Our government should be ensuring the health and safety of its citizens before it considers a single new permit to allow this destruction to continue. We owe it to coal country, to those families, and to our nation's future." Among the poor health outcomes in the region is 1,200 "excess deaths" per year near mountaintop removal, as described by Dr. Michael Hendryx in this Ted Talk: https://www.ted.com/talks/michael_hendryx_the_shocking_danger_of_mountaintop_removal_and_why_it_must_end.
Please consider contacting your US Congressional delegation and urge them to cosponsor the ACHE Act. Contact links and more info are available at https://www.acheact.org/, where you can endorse the ACHE Act if you represent an organization.
Coal River Mountain Watch Union
On Labor Day, Coal River Mountain Watch announced that we had voluntarily recognized the Coal River Mountain Watch Union, affiliated with the IWW. We should have a contract ratified in early January.
Anthropocene Alliance
Coal River Mountain Watch has become a member group of the Anthropocene Alliance, the nation's largest coalition of frontline communities fighting for environmental and climate justice. More details and links to other member groups are at https://anthropocenealliance.org/.
Please consider supporting our work at https://secure.givelively.org/donate/coal-river-mountain-watch. Small recurring donations are especially appreciated. If you'd rather donate by check, our address is
CRMW, P.O. Box 303, Naoma, WV 25140.
We can also accept donations of stock; just reply for details.
Please follow us for updates on Facebook here, Twitter here, and Instagram here.
On behalf of all of us at Coal River Mountain Watch, thank you for your patience and your determined support. Please keep in touch and stay safe and healthy.
Sincerely,
Vernon Haltom
Executive Director