Wow! What a year it's been.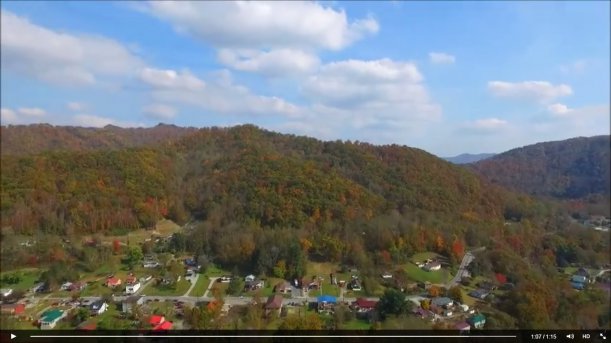 Here's a quick summary of 12 major events in 2015, in no particular order:
1. Judy Bonds Center: With generous donations from our loyal supporters, we made the down payment for our office building and dedicated it as the Judy Bonds Center for Appalachian Preservation. We now have the apartments upstairs available for housing visiting student groups, volunteers, interns, and reporters. The Center is available for community meetings, parties, and other events.
2. AMP: The Appalachian Mountaintop Patrol (AMP) project got off to a good start filming the mountaintop removal destruction in the area. Here's some drone footage, flying over the Judy Bonds Center and the nearest mountaintop removal site and sludge dam: https://vimeo.com/145592303.
3. CREEK: Our Tadpole Project created the Coal River Environmental Education for Kids (CREEK) program to give community youth some wholesome activity, mostly outdoors, while they learn and have fun.
4. ACHE: The Appalachian Community Health Emergency (ACHE) campaign got the ACHE Act reintroduced. Friends at CREDO Action and Earthjustice promoted a petition signed by over 200,000 people supporting the ACHE Act, H.R. 912, which the ACHE team delivered to Congress. http://acheact.org
5. Alpha bankruptcy: Alpha Natural Resources, which operates the mountaintop removal sites and sludge dams around us, sought bankruptcy protection. That doesn't mean they shut down. Citigroup and others provided $692 million in loans, and Alpha executives have asked for over $14 million in bonuses while cutting retiree benefits. While Alpha has idled some sites, they continue to operate others and apply for more permits.
6. Coal River Mountain: While Alpha keeps gnawing away, we keep resisting. A federal judge ruled against the Dept. of Interior's motion to dismiss our lawsuit over the illegally extended Eagle 2 permit. We also turned out residents opposed to Alpha's Long Ridge #1 application, submitted a petition signed by over 73,000 people opposed to it, and filed a notice of intent to sue over federal agencies' failure to require a protection plan for the threatened northern long-eared bats on the site.
7. Edwight shutdown: Alpha Natural Resources idled the 2,000-acre Edwight mountaintop removal site above our communities of Naoma, Drews Creek, Pettry Bottom, Sundial, and Edwight. The status is "reclamation only," and there's a lot to be done to reclaim this dusty mess. We fear that the WV Dept. of Environmental Protection's bonding deal with Alpha will let them off the hook with poorly done reclamation.
8. Don Blankenship conviction: A jury found former Massey Energy CEO Don Blankenship guilty of conspiracy to violate safety regulations. He could receive a year in prison for the misdemeanor. The case resulted from the Upper Big Branch mine explosion in our community in 2010, which killed 29 miners.
9. National and international coverage: We provided tour to reporters from CBS 60 Minutes, Mother Jones, Vice, and more, as well as to French, German, Italian, and Swiss reporters. We show mountaintop removal and its devastation of communities firsthand and link it to global issues.
10. Road Show/Storytelling: Our folks traveled to universities and conferences coast to coast to tell our stories. Outreach coordinator Junior Walk gave a keynote address at the Bioneers Conference in California (http://tinyurl.com/JuniorWalkBioneers15), and volunteer coordinator Adam Hall spoke on a panel at Brown University in Rhode Island. We also hosted student groups from near and far.
11. The People's Foot: We played a major role in the People's Foot rally at the WV Dept. of Environmental Protection, hosted by the ACHE campaign, to demand no new mountaintop removal permits. The rally resulted in WV Gov. Tomblin's acknowledging the existence of more than two dozen health studies showing that MTR is a public health threat. Gov. Tomblin directed the state health department to review the studies.
12. KD#2 shutdown: Our friends at the Kanawha Forest Coalition, through dogged determination and site monitoring, got the KD#2 mountaintop removal site next to the Kanawha State Forest shut down. The long pattern of violations got the operators placed on a national "no new permits" list. They have yet to correct the acidic runoff from the site.
Thank you for your support this year. We couldn't do what we do without our loyal members. Have a Happy New Year!