Our friends in Tennessee are trying to stop the 1,496-acre Cooper Ridge mine in Claiborne County. Please send comments opposing this new site by Dec. 21. Contact information and more details are below. Thank you!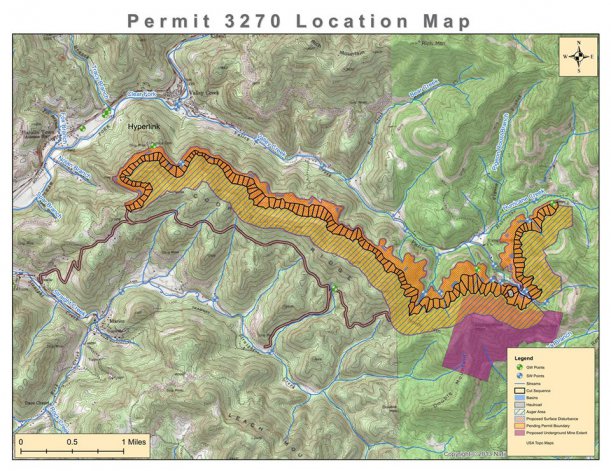 Background information from Statewide Organizing for Community eMpowerment (SOCM):
Kopper Glo Mining, LLC is seeking mining, discharge, and aquatic resource alteration permits for its 1,496 acre proposed Cooper Ridge Surface and Underground Mine in Claiborne County. The applicable agencies will take comment on the mining permit for the full mining project and for Phase I of the water discharge and aquatic resource alteration permits which will include a total of 424.1 acres and discharges into tributaries of Valley Creek (a tributary of the Clearfork River) and Hurricane Creek. The Cooper Ridge Surface Mine will be the largest coal strip-mine in Tennessee and will be the third new strip mine proposed for the Clear Fork watershed
within the past few years, including the 1,088 acre Sterling and Strays strip mine upstream on Valley Creek and the 578-acre Clear Fork Surface Mine on Straight Creek.
This area of Claiborne County has been extensively strip mined over decades, resulting in extremely poor water quality. The Cooper Ridge mine would worsen the cumulative effects of the many historic and current strip mines in the area and cause negative impacts in several watershed tributaries. The Blackside Dace is a rare freshwater fish on the federal threatened species list and is found in only 8 counties in Kentucky and 3 counties in Tennessee. Conductivity is the ability of water to carry an electrical current. It indicates the physical presence of dissolved chemicals in the water, including the heavy metal ions released from pollutants such as acid mine drainage. Aquatic species are jeopardized by high levels of water conductivity created by mining pollution and waste allowed to pollute local streams. This water pollution puts the future of the Blackside Dace at risk, it has already disappeared from at least 24 streams in its limited home range. This area of Tennessee also has significant historical and cultural assets and an important and cherished community cemetery is
located on the mountain and the proposed mine is only 100 feet away from the last resting place for beloved family members.
Preparing My Testimony Tips:
The most compelling testimony will draw from your personal experience. If you live
in the area or recreate in the area, or if the water pollution permit would impact you in some way, let the agencies know.
Make it personal: "Hello my name is ____. I live in ____. I want to thank you
for this opportunity to comment. I also want to thank you for engaging the public in this process. I urge you to ____."
Include a few key facts:
• See sample talking points
• Don't worry about highly technical information.
Include your name and contact information: Be sure your testimony includes some form of contact information, but remember, it will become a public document available online. Identify yourself as a SOCM member if you are one.

Example Talking Points
• Role of TDEC: The Tennessee Department of Environment and Conservation exists to enhance the quality of life for citizens of Tennessee and to be stewards of our natural environment. Permitting a mine that will destroy 1500 acres of Tennessee mountains and damage the streams around it for decades to come will not improve the quality of our air, land, and water. TDEC should follow their mission!
• Hearing Location: TDEC held the public hearing about 70 miles away from affected communities and only 5 days before Christmas. This makes it difficult for community members to testify at the hearing.
• Permitting in Phases: TDEC must consider all of the discharges from the entire proposed mine in a single permit process. By issuing water pollution permits in at least two separate phases, TDEC has failed to account for the full impact to the receiving streams.
• Impacts of Re-Mining: TDEC should not assume that re-mining will lead to an overall decrease in pollution from the site. In fact, evidence suggests that streams in the Clear Fork watershed have only recently begun to recover from the pollution impacts of historic mining and that recent mining has started to reverse that trend.
• Compliance History: The agencies should not reward a chronic violator with permits for a new surface mine. The permit application lists 17 notices of violation from OSM to Kopper Glo for its other coal mining operations in just over two years, including many violations related to water quality.
• Cumulative Impacts: Permitting authorities must address the cumulative impacts of water pollution discharged from all existing and proposed strip mines in the Clear Fork watershed before issuing any new permits.
• Selenium: The draft permit violates the Clean Water Act because it fails to fully evaluate the reasonable potential of discharges from the mine to violate water quality standards for selenium. Given that selenium is known to be present in variable concentrations in coal seams in Tennessee, TDEC should require the applicant to conduct and report representative core sampling to determine whether
selenium is likely to be present in the coal to be mined from the site.
• Groundwater Impacts: This mine would affect groundwater because it will change the hydrology of the east side of Cooper Ridge and release pollutants now contained in the coal and the overburden at the site. Groundwater and surface water resources are closely connected in this area. There are at least seven households and two churches that use springs or wells for their water supply.
• Impacts on Sensitive Species: The blackside dace, a freshwater fish, is protected as threatened under the federal Endangered Species Act, in part because of pollution from surface coal mining. The Cooper Ridge mine will discharge polluted runoff water to tributaries of the Clear Fork, an important corridor that blackside dace use seasonally to seek spawning habitat in smaller streams. Blackside dace are extremely intolerant of elevated conductivity levels caused by dissolved solids from polluted mining runoff. Any discharge permit for the mine must impose limits on conductivity to avoid further harm to blackside dace.
• Community Cemetery: This mine will be near family cemeteries that must be protected. Community members must be able to access family cemeteries on Cooper Ridge and we ask that the deep mine portal be moved further than 100 feet away from the Hatfield Cemetery.
• Economics: Tourism is important to the current and future economy of Tennessee. The Tackett Creek Wildlife Management area surrounds the proposed Cooper Ridge mine. This area has great potential for increased ecotourism that can benefit Tennessee's economy more than another strip mine.
Please send comments to all three of the following: Bill Winters at bwinters@osmre.gov, Dan Murray at Dan.Murray@tn.gov, and Gary Mullins at Gary.Mullins@tn.gov. Be sure to state that you oppose NPDES permit TN0069736 and SMCRA permit number 3270. Written comments will continue to be accepted until December 31st at:
TDEC
Mining Section, Knoxville EFO
3711 Middlebrook Pike
Knoxville, TN 37921-6538
Thank you!