Today would have been Judy Bonds' 63rd birthday.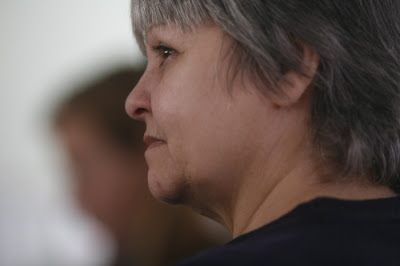 We miss her every day, but especially today. Before cancer took her from us, she stood at the forefront of the movement to end mountaintop removal and inspired activists throughout Appalachia and beyond.
In her memory, we purchased our office building and dedicated it as the Judy Bonds Center for Appalachian Preservation. The Center now serves not only as an office but as housing for interns, volunteers, and visitors and as a community center.
In Judy's memory, would you consider signing up for an automatic monthly donation? If only 20 people signed up for $20 per month, or 40 people at $10 per month, the mortgage for the Judy Bonds Center would be paid and we would be that much closer to having a permanent monument to her legacy of fighting for her community.
"Don't let up; fight harder and finish them off."
Judy knew that the coal industry would not simply throw in the towel on mountaintop removal because it had lost some court cases and was in decline. But now, with Alpha Natural Resources and Patriot Coal declaring bankruptcy and Arch Coal on the brink, various writers have declared that "mountaintop removal has all but ground to a halt" and that "King Coal is dead."
Unfortunately, King Coal is very much alive and maintaining a firm grip on our state government, and bankruptcy protection doesn't mean shutting down. Alpha's active, approved, and pending mountaintop removal permits on Coal River Mountain alone amount to over 5,000 acres—a far cry from "grinding to a halt." Coal companies with financial troubles want to extract the most coal with the lowest labor cost, and mountaintop removal does just that. As long as mountaintop removal continues, our families will continue breathing the dust that the World Health Organization has classified as "carcinogenic to humans."
So instead of declaring victory or letting up, we follow Judy's exhortation to "fight harder and finish them off." Could you help us carry on Judy's fight with a $100 donation?
Thanks for all your support, and remember to keep up with the latest by Liking and following us on Facebook.