New mountaintop removal application on Coal River Mountain, 847 acres that we expect to be followed by another 1,200 acres or so. We'll post more details soon.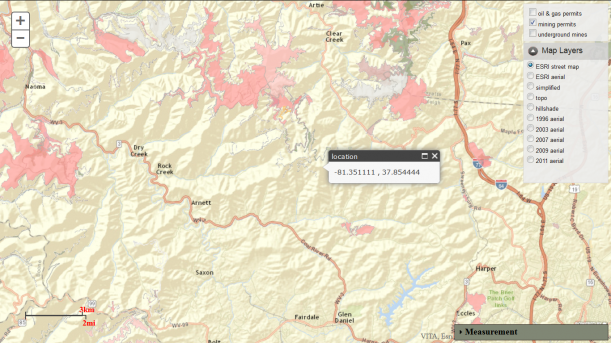 Mountaintop removal kills people. Please help us build resistance to this next assault. Standing up to Alpha, the world's third largest metallurgical coal supplier, takes time and money. Please share and help out with a donation of $10 or more. Also, please email the WVDEP permit supervisor, Thomas.E.Wood@wv.gov, to tell him that you oppose the many hazards that would come with permit S300115, or send a letter to the address below. Thanks!
Monday, April 27, 2015 @ 3:06 PM
===========================================================
Copy of application has been sent to the court house.
West Virginia Department of Environmental Protection
This mailing is to advise the public that we have received an application for Surface Mine Application of permit S300115 for REPUBLIC ENERGY, INC, 4101 SLATE DR , SCARBRO, WV 25917. This application is for the surface and highwall mining in the Hernshaw, Cedar Grove, Peerless, No. 2 Gas, Powellton, Eagle A, Eagle, and Little Eagle Coal Seams, and all associated splits of coal.
The permit is located in Raleigh County, Longitude 81° 21´ 4.0000" Latitude 37° 51´ 16.0000" (Coordinates from USGS Topographic Map).
Please send any comments on this application to the address below, postmarked on or before the close of the comment period, and reference the permit number shown above. A copy of the application will be available for inspection and obtaining copies during normal business hours at the DEP Regional Office located at the address below.
DEP Regional Office
254 Industrial Drive
Oak Hill, WV 25901
Phone:
Fax: (304) 465-0031
Details are here: https://apps.dep.wv.gov/WebApp/_dep/search/Applications/SMADetails.cfm?application_id=62056&dep_office_id=OMR
and here:https://apps.dep.wv.gov/WebApp/_dep/search/Applications/activities.cfm?application_id=62056&dep_office_id=OMR++&ap_type_code=SMA&DESCRIPTION=Surface+Mine+Application&Application&responsible_party_name=REPUBLIC+ENERGY%2C+INC&APPLICATION_SEQUENCE_ID=1&APPLICATION_PERMIT_ID=S300115