Put Your Foot Down! No More Mountaintop Removal Permits!
Mar 12, 2015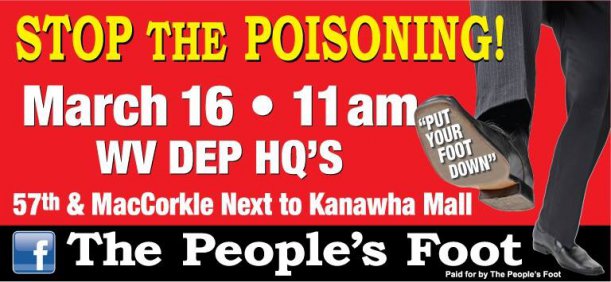 Come join us Monday, March 16, at the WV Dept. of Environmental Protection headquarters next to Kanawha Mall at 57th and MacCorkle in Charleston, WV. We're demanding that the WVDEP acknowledge the many scientific studies showing that mountaintop removal is deadly to the people in our communities, and stop issuing permits accordingly.
The first 125 participants will get a free T-shirt. You can show up early, but please not before 10:15. We'll have music, speakers, and hopefully a meeting with the DEP where you can have your voice heard. If you need a ride, call us at 304-854-2182
304-854-2182 or email at coalriver (at) crmw.net, and we'll find a way to get you there.
Please also sign up and share the event on Facebook at https://www.facebook.com/events/306373336225769/. Bring a friend!
See you there as we all put our foot down!